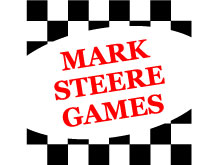 | | |
| --- | --- |
| CONNECTION GAMES | Form a path of stones connecting perimeter segments. |
FRACTAL (board)

Beautiful connection game. Designed to minimize first move advantage.

Equipment: Printed board, highlighter pens.


COPYRIGHTS AND TRADEMARKS - All of the games presented here were designed solely by me, Mark Steere. I retain all of the rights to all of my games, including copyrights and trademarks.

Contact - marksteere@gmail.com






Copyright 2021 by Mark Steere. All rights reserved.