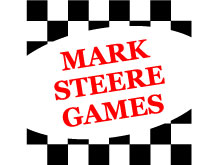 GAME PROGRAM DOWNLOADS
These downloadable game programs do not require a separate engine to run. They don't require an extensive intallation procedure. Just download them and run them, hassle free.

COPYRIGHTS AND TRADEMARKS - All of the games presented here were designed solely by me, Mark Steere. I retain all of the rights to all of my games, including copyrights and trademarks.




Updated February 2011

Copyright (c) 2011 by Mark Steere. All rights reserved.